Program for Kids - Baby stage
4.5.2010 07:10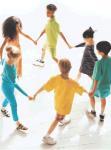 Don´t let your kids at home not only adults can have fun. Bejby stage thats are games,competitions and fun for bigger and smaller. Childrens bar (limonade, tea ..soft drings only) rest zone for youngests, blankets, toys and much more...

14:00 – 15:00 start of BABY STAGE and introduce of bejby stage
15:00 - 16:00 baby body painting + free activity, painting, drawing, workshop
16:00 - 16:30 little theatre
16:45 - 17:15 competitions – trow at tatget , dragging of rope...
17:15 - 18:00 children disco
18:00 - 19:00 competitions – best dancer and handy boy
19:00 - 19:30 goodbytes with bajby stage and end